---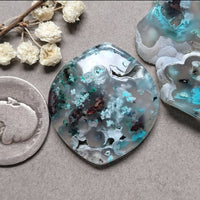 By the time we were able to get our hands on this botanical gem it was already depleted and sold to larger dealers local to Indonesia and around the globe. We have been able to find a little, but it is uncertain if this is all we will be able to acquire. At the present time the 'pocket' formation is mined out.
Sugar Water Flower Agate reminds one of the end of springtime, as petals carried by soft breezes land upon still and clear waters.
From the Bacan archipelago in Indonesia, this rare gemstone has notes of chrysocolla, malachite and native copper captured forever in a delicious Sugar Water silicate.